The 2016 & 17 IAU Trail World Championships were only 8 months apart. I had the privilege to experience both World Championships and wanted to take the opportunity to share what I learned from the two completely different results.
In 2016 I placed 123rd place and in 2017 I placed 9th. Most importantly, both our men and women's teams moved up in 2017, and on the men's side we were able to secure a bronze medal.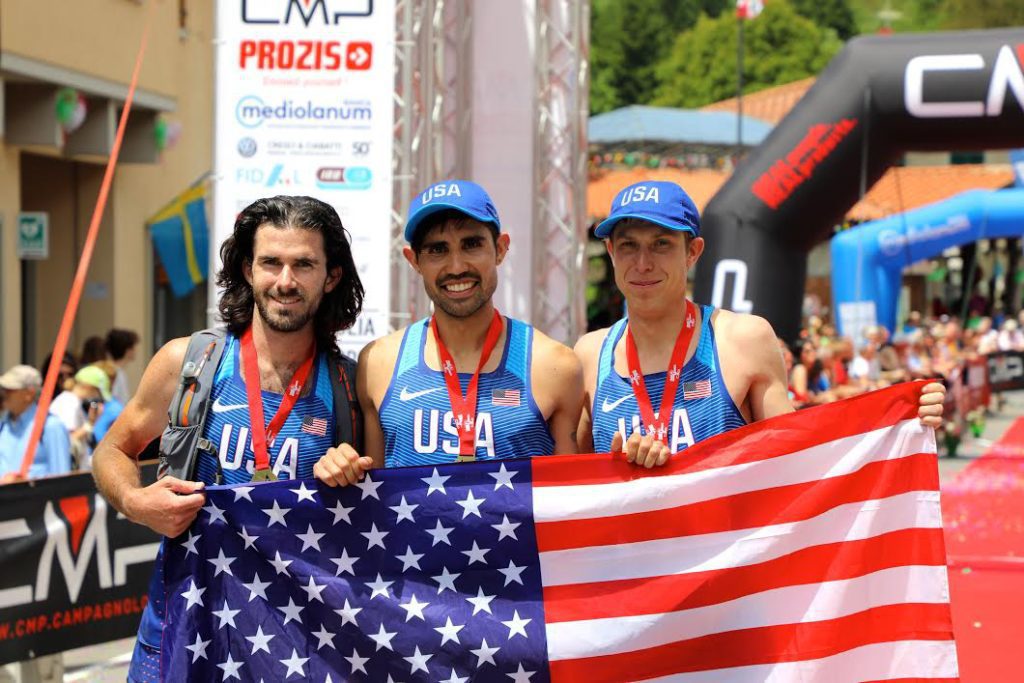 The IAU Trail Championships are really competitive. I've gotten to experience several other trail/mountain world championships and I think the European countries really put more emphasis on Trail Ultra Running. For them Trail Ultra Running is also Mountain Running because the courses they run on our way steeper and more challenging than what we run on in the USA. I honestly don't mean to lessen the competitiveness of other racing disciplines and distances, I just want to acknowledge that the European countries take this race extremely serious. I didn't realize how serious they take it until I experienced it.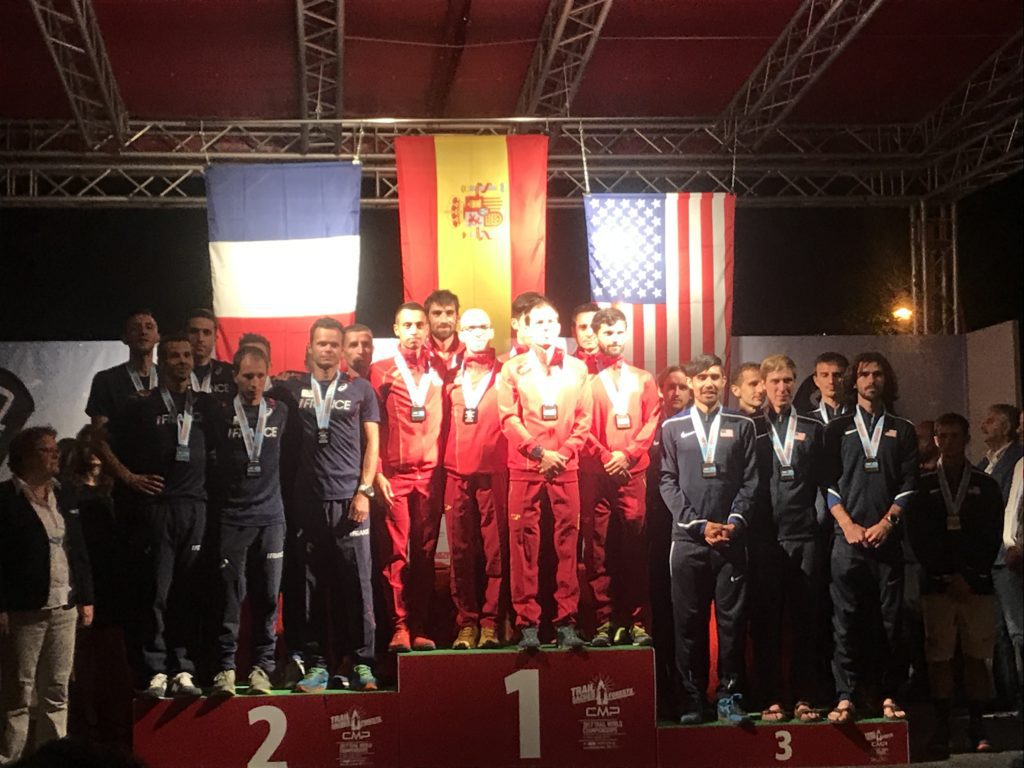 2016 EXPERIENCE:
In 2016 my quads gave out with 12 miles to go. I could still run uphill pretty well but downhill I had to walk. It got so bad on one of the downhills that I had to walk backwards. In the last aid station I didn't think I could finish. Being our third runner and knowing that our team would only score if I finished (we needed three to score), helped me push deeper than I ever have in an ultra. Grabbed hiking poles from a teammate and left the last aid station with the intention to finish. Everyone passed me. I mean everyone! I went from being top 40 in the race to 123rd but as crazy as it sounds I think it's the race i'm most proud of. It's easy to finish a race when things are going well. Finishing a race when every obstacle comes at you is the real challenge. It really teaches you more about yourself. Something happens inside your character as you humble yourself and keep pushing. It was a very emotional finish for me because I didn't think I could make it.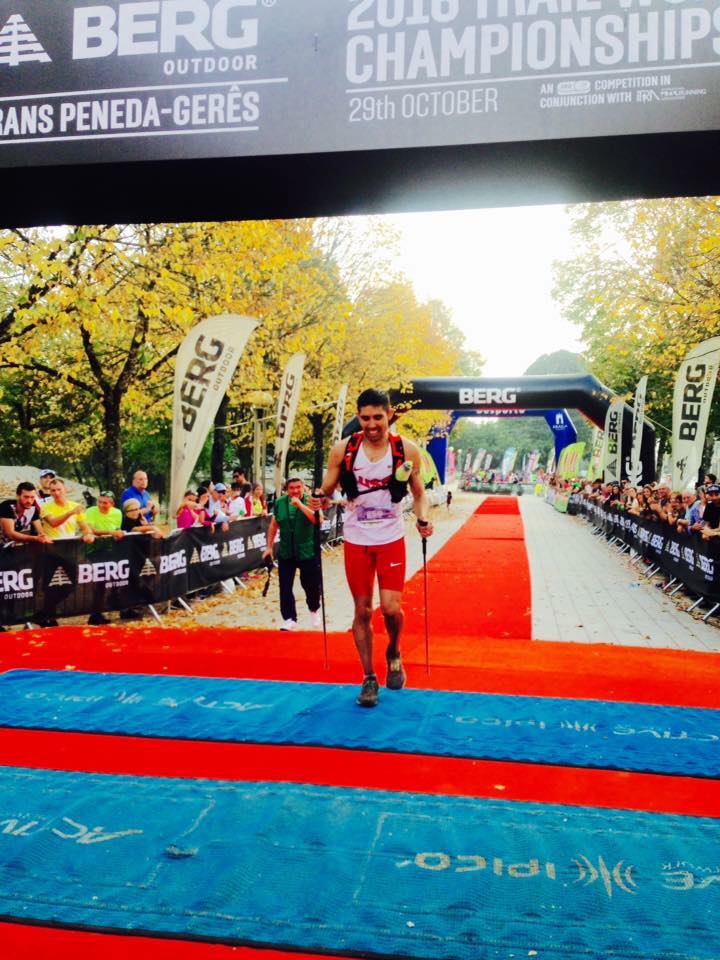 CHANGES MADE AFTER 2016 race:
In 8 months I tried to work on what I learned from 2016. I learned that European courses are way harder on the quads and that I needed more volume in my training. I added strength training as well and started working with Joey at Central Oregon Strength Academy. I also learned that I needed to push some of the downhill training a bit more. I've always been a good climber, but it's important to work on the weaknesses too.
There was one other big change I made that I think is worth talking about. In ultra races that have that much elevation changes you have to be ready to hurt. There is no way around it. You can't expect to get into a rhythm or to feel good for at least half the course. The European guys are so tough. They are serious mountain runners who are used to pain and suffering. I noticed it last year and wanted some of that mental toughness for myself. It's been a big breakthrough.
THE 2017 RACE:
After getting stuck behind a lot of people at the start I slowly worked my way up to about 30th place. By 8k I moved my way up to 20th place and was feeling great on the climbs. I knew 5 of our guys were ahead of me at that point and that actually made be happy. I was hoping we all had a great race.
Around 15k into the race I saw both Hayden Hawks and Tyler Sigl up ahead. I passed Hayden first and knowing he had come off a bad race I figured he wasn't feeling recovered. I knew it was my job to encourage him. I told him he would feel much better if he committed to sticking in the race and later I found out he caught a second wind and was able to move back up the field.
Another 1k later I passed Tyler up the hill. I noticed he had been pushing the downhills hard but was struggling a bit on the uphills. I encouraged him to also hang in the race but to try to be more patient on the downhills so he had more power to climb back up.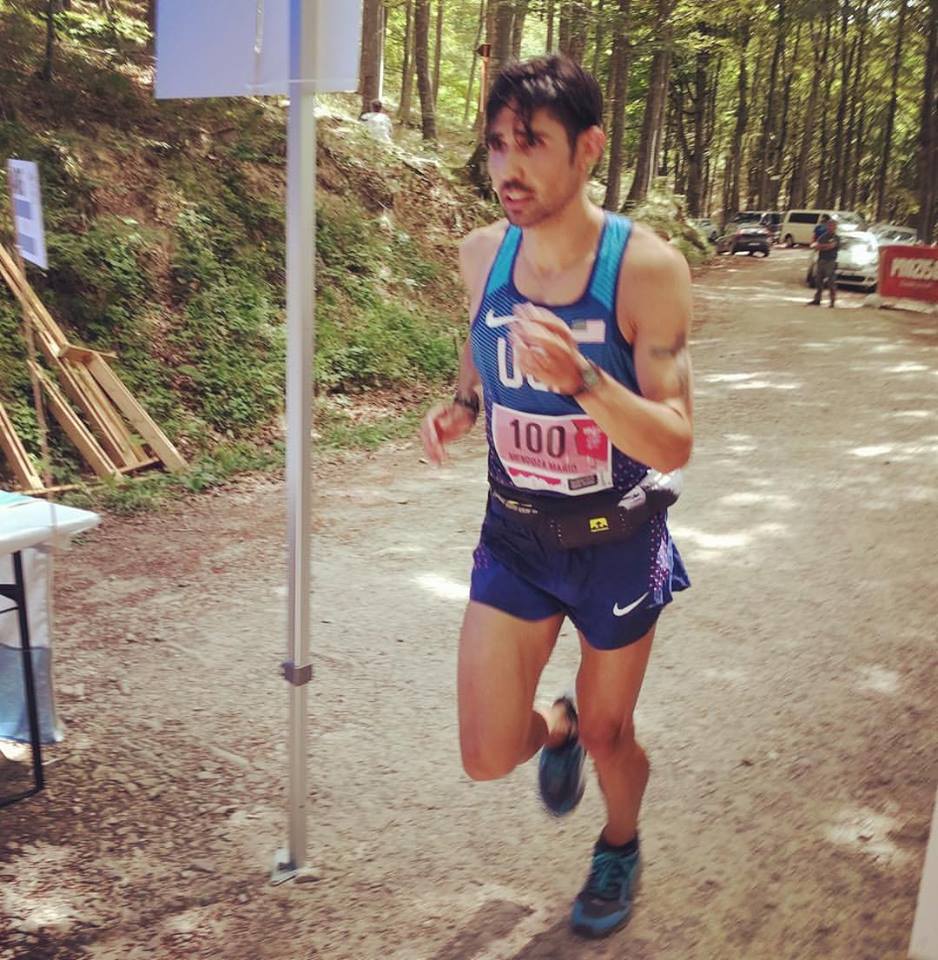 The next 8k into the 24k aid station went really smooth. I ran with one of the Spaniard guys and we passed a couple of people who were also hurting. At this point I moved into the top 15 and knew that we still had 3 USA guys up ahead. There are only two big aid stations in this course and so I took my time at the 24k mark. Made sure I refueled in everything and got what I needed. Then it was time to get to work. I had stayed patient for now almost half the race and it was time to give it what I had. In the next 5k you do a really big climb. It was in this section that I passed David Roche. He still looked strong and that made me happy because the more guys we had up there the better. I encouraged him to hang tough and to run for the team. Just after David was Cody Reed and catching him was a little more gradual. He was sweating a lot but still looked smooth and in control. I knew this was Cody's first big international race so I encouraged him that he was doing really well and that if he kept strong he would be able to really help the team out. He asked me about water and thankfully we were about to hit a water station.
After passing David and Cody I was a little worried. I wondered if they would be able to hold on to their positions because we needed at least 3 guys to have a good team race. I knew Andy was still ahead but really prayed that either Cody or David would be able to hang steady.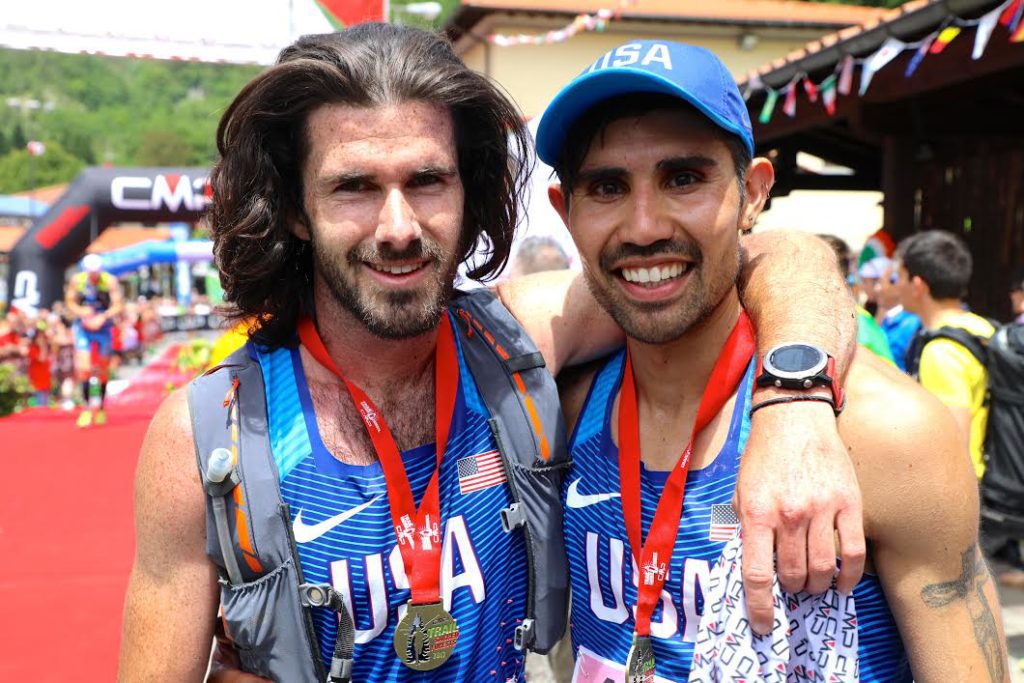 At roughly 35k mark I heard Andy was only 90 seconds ahead. I was actually hoping he was way up ahead because for me it was about the team result. I had moved up to 12th place at this point so I knew Andy must be at either 11th or 10th. I moved steady on the downhills and refilled my bottles again at the aid station. The next 4k was another big climb into the last aid station. This was the first time I started getting some cramps in my legs but I knew at this point in the race it was just normal. I kept steady up the hill and spotted Andy. Just ahead of Andy was one of the French guys and knowing that I was still feeling strong I worked my way up into 9th place. As I passed Andy I told him Cody was still hanging strong (hopefully) and that he needed to hang in there for the team. I encouraged him and kept pushing.
Just before the last aid station I got to see my wife, some of the USA supporters, and Bryon from irunfar. I knew they were excited to see a USA guy in the top 10 and i'm sure were excited when they saw Andy and Cody just behind. I believe somewhere around that last aid station is where Cody passed Andy, but Andy still hung on super tough to round out the scoring.
The last 8k is when I realized how well my individual race was going. It was the first time I actually thought about my race and got a bit emotional as to how unreal it would be to finish top 10 at this race. Even though I started cramping I didn't care. I just kept running to the finish line.
As I came into the finish I couldn't help but tear up. It's been a life goal to finish top 10 in the world.
Immediately after finishing I hugged my wife and team leader Jason Bryant. And we turned around just praying that the next USA guy would come in. I was so stoked to see Cody Reed come in at 15th place and then just a couple minutes later Andy Wacker hung tough to come in at 20th place. Those two guys secured a bronze medal for the USA just edging out the host country Italy. It was so awesome.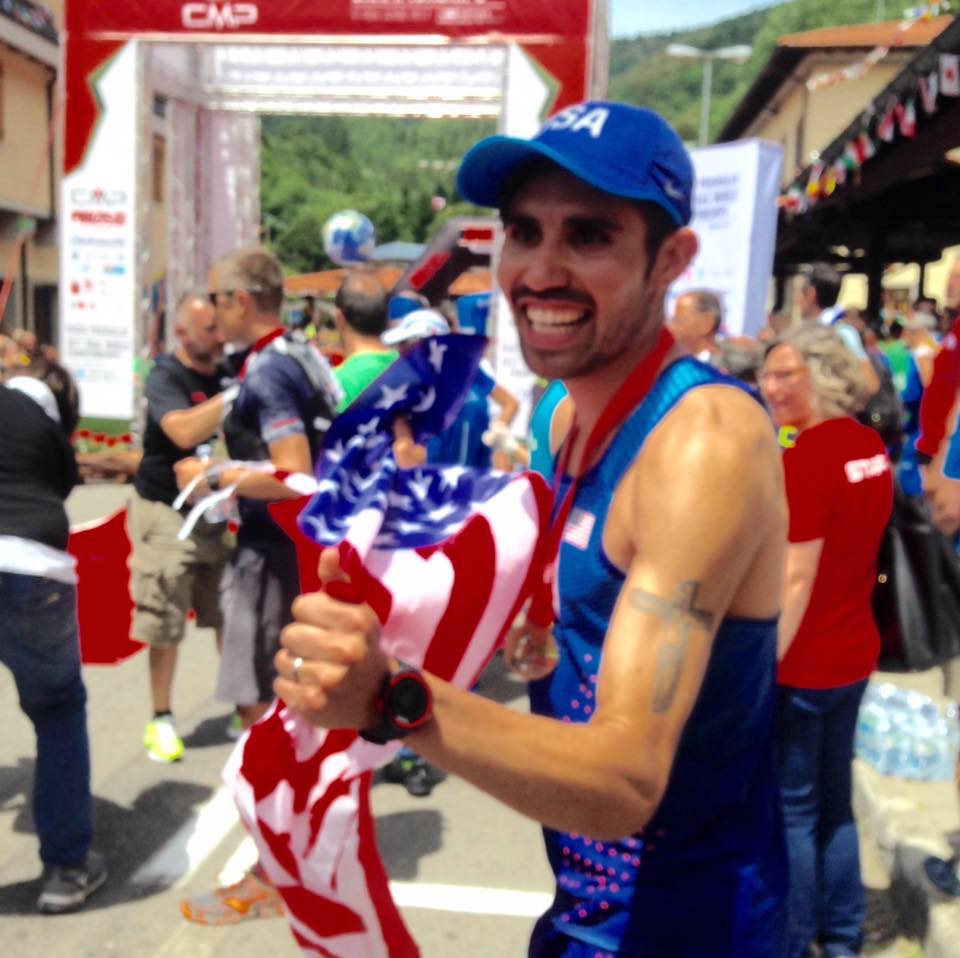 I was so proud of the entire team. Women's team as well. Everyone gave their best effort even if they didn't have the race they dreamed of having and that is what matters most. I have high hopes that our team will continue to learn and even if I'm not on the team next year I will keep hoping for more USA medals.
Here is the race article written by trail runner magazine.
I enjoy running for something much bigger than myself. Having my team and country in mind helps me push. I wish there was more emphasis in the USA on team results, and not just individual results.
GEAR USED:
There was mandatory gear we had to carry so I used a belt that could carry more stuff.
Skechers GoTrail2 (coming out soon)
Nathan VaporKrar
Nathan flasks
6 Gu Gells
Drymax socks
I got the chance to do a pre-race interview with TrailRunning Review in Spain. It was fun to do this one in Spanish.